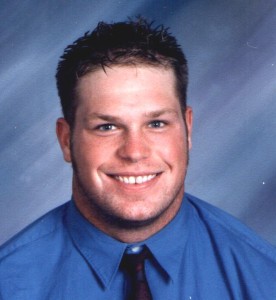 Who was Cory Wilson
Cory was a 27 year old, lifelong resident of Collinsville, Illinois. Cory was celebrated for countless achievements in his life. His most notorious triumph was football. He began playing organized football at the young age of five with the Collinsville Raiders. Cory then went to play for the Collinsville Kahoks and became known as the "Monster in the Middle". Cory gave his all at everything he did. His great attitude on and off the field made him a leader and role model in the community. Due to his dedication and love of the game, Cory became an All-American high school football player.
He continued his football career with the McKendree College Bearcats. Cory was faced with an obstacle his freshman year concerning the position he wanted and he proved to the nation what a man on a mission could accomplish.
Heart, dedication and hard work earned him a starting position as middle linebacker, which earned him another All-
American career. Cory was more than the average football player. He took full advantage of his scholarship and earned a Bachelor of Science in Psychology. While completing his degree, he continued to guide the Bearcats football players as a student coach. Cory never took life for granted and appreciated everything he worked toward.
After graduating from McKendree College, Cory began his working life. He took the same approach with every job opportunity he accepted, which was to excel. Cory began working for ABB, Inc. in St. Louis, Missouri September 2005.
His good business sense and ambition earned him a promotion to Project Manger within the Marketing department in
March 2007. Over a short period of time, Cory's determination and drive to succeed led him to advancement as a First
Line Supervisor in August 2007. While climbing the corporate ladder Cory also made the commitment as a volunteer assistant football coach at Collinsville High School.
Cory was a loving son, brother, uncle and friend. He was there for anyone who needed him. He had an incredible personality and infectious smile. He had an enormous appetite for life and put so much passion into everything he wanted to attain.
What Happened to Cory Wilson
Despite the dicey weather on January 7th , 2010, Cory left for work as if it would be a normal day. He didn't know it would be the last hours of his young life. While attending his daily floor meeting, another employee entered the building and began his fatal shooting spree. Cory Wilson was one of eight injured victims and among the four ABB employees who lost their lives at the hands of another that morning.
The days following the tragic event proved that not only did Cory's family and friends lose someone special, but the entire community did also. This was attested by the thousands of mourners who said their goodbyes, outpouring of the community support, and the attendance at the funeral service, which exceeded capacity.
Cory was a man who was passionate for life. He was a true leader and role model who believed in giving back to his community. Cory's life was tragically cut short. Family and friends have started The Cory Wilson Scholarship Association as a tribute to his passion for life and his yearning to help others.